| | |
| --- | --- |
| The Renderer is also referred to as SSE, enables the user to color and add texture or "skins" to the object's surface to simulate various material finishes. | |
REALTIME PREVIEW FEATURE
The Renderer utilizes the DirectX8 technology making realtime preview possible. Since objects can now be viewed with textures, reflection, transparency and shadow, even as you make changes, editing in LiveMagic Mode is made even more convenient.
ENVIRONMENTAL AND MIRROR REFLECTION MAPPING SUPPORT
3DA v4 supports two reflection methods namely, Environmental mapping and Active Mirror. Both methods have two types of reflection namely, Flat and Spherical. Environmental mapping reflects a selected image onto the surface while Active Mirror, reflects the image found in thesurface's surroundings.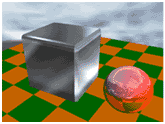 REALTIME SHADOW

Realtime Shadow Preview is now supported in both Ray Magic and LiveMagic Mode. It is now easy to set that perfect light angle.
BILLBOARD OBJECTS
TGA Images with alpha channels can be loaded into the SSE as objects. The alpha area in the image will be transparent so you can have irregularly shaped objects without spending too much memory on polygons. BB objects are best for creating thick foliage, flame, fences, crowds and so on.